My three year old, brown hunting dog Enya has following problems:
She was in constant fear and had fear attacks regularly. The attacks became even worse after New Years fire works.
With any loud, sudden, banging noise she would be blindly running for safety into the car, house, into bushes, at worse times even away from me.
If there are more then four people at one time, noises from farm equipment, smells of certain people or places, I don't know the reason, but in this case she doesn't run away, but comes to me to get on the leash for safety.
No matter what I tried to help the dog to overcome the problems, nothing worked, we were thinking about putting her out of her misery!
Then I heard from my neighbor about a healing program she was taking and asked if maybe Enya can benefit from a similar program.
I followed up, and entered Enya into a healing program with Karin, from Canada.
Here are some of our experiences as the healing progressed:
I am speechless: Enya is overflowing with energy; she is in a good mood even funny. She is running outside relaxed and at ease.

Half way through the Program!
We went for a walk in the forest and she acted like a typical young hunting dog, ran at full speed through the forest following one trail after another. Alert, with amazing energy and without any fear. Her obedience was brilliant, every time I called her back she came immediately, she was flowing over with energy in her work? to find game, really super!
Program Completed!

During our walks when meeting large groups of people or when there are certain areas and smells, there is no fear or concern, she stays unimpressed and confident, never looks for me to take her on the leash anymore, she shows so much courage!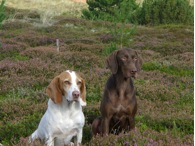 Anette Hollenbach, Enya on the right